October 2013: AMS meeting in Den Haag
Mr. Adhi Gesit, Mr. Jajang Nurjaman and Mr. Muhammed Haris Budiawan of ANRI visited Den Haag for an introduction course in Archival Management Systems. They met Mr. Joan Snellen van Vollenhoven of TCF to share their experience and discuss about the use of archival management systems for ANRI. Photo taken on Saturday October 2013, 27th.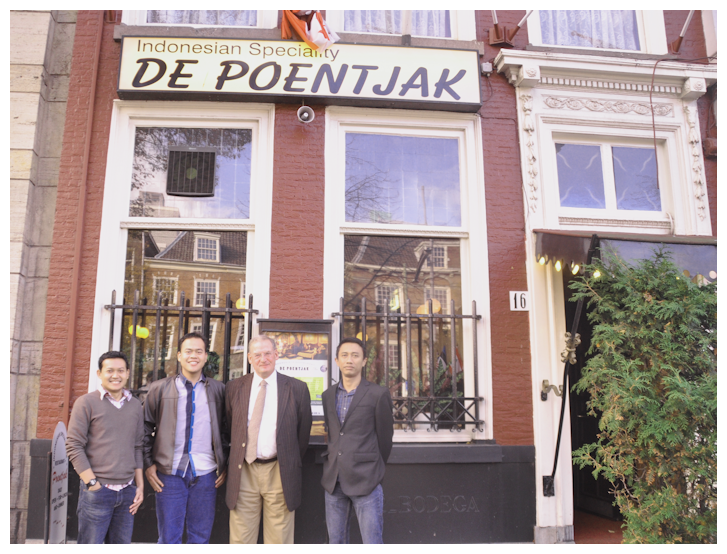 September 2013: ANRI press release
At the SARBICA conference held in the Hotel Savoy Homann in Bandung Indonesia, the website www.sejarah-nusantara.anri.go.id was officially launched. Here you will find the official press release by the National Archives of Indonesia (ANRI) in the Indonesian language.
PDF download available here >>
ARSIP NASIONAL REPUBLIK INDONESIA
ANRI dan SARBICA Gelar Seminar Internasional
Manajemen Penanggulangan Bencana terhadap Arsip
Arsip Nasional Republik Indonesia (ANRI) bekerja sama dengan Asosiasi Lembaga Kearsipan Asia Tenggara atau South East Asian Branch of International Council on Archives (SARBICA) menyelenggarakan Seminar Internasional tentang Manajemen Penanggulangan Bencana terhadap Arsip di Era Digital. Tujuan dari seminar yang akan diselenggarakan pada 27 September 2013 ini adalah untuk menyusun naskah rekomendasi dan kesepakatan dalam rangka penyusunan kebijakan, metode dan teknik penanggulangan bencana terhadap arsip. Selain itu, acara pun bertujuan untuk mempererat kerja sama dan tali persaudaraan antar negara-negara anggota SARBICA. Acara yang bertempat di Hotel Savoy Homman, jalan Asia Afrika nomor 112, Bandung direncanakan akan dibuka oleh Menteri Pendayagunaan Aparatur Negara dan Reformasi Birokrasi, Azwar Abubakar. Dalam kesempatan ini, Gubernur Jawa Barat, Ahmad Heryawan direncanakan pula akan menyampaikan sambutannya di hadapan peserta seminar. ANRI pun turut menggandeng Pemerintah Provinsi Jawa Barat dan Badan Perpustakaan dan Kearsipan Daerah Jawa Barat sebagai tuan rumah event besar tersebut.

Seminar internasional ini diikuti oleh 200 peserta yang berasal dari dalam dan luar negeri terutama negara-negara anggota SARBICA. Negara anggota yang turut hadir ini adalah Brunei Darussalam, Indonesia, Malaysia, Singapura, Thailand dan Vietnam. Selain itu, hadir pula delegasi dari negara-negara selain anggota SARBICA seperti Jepang dan China sebagai negara peninjau. Selain menyelenggarakan seminar internasional, ANRI juga menjadi tuan rumah 2nd Executive Board Meeting for 19th SARBICA Executive Board yang diikuti oleh Kepala Arsip Nasional dari berbagai negara anggota SARBICA.

Dalam acara pembukaan rangkaian kegiatan, ANRI pun akan meluncurkan situs web Sejarah Nusantara yang menyediakan akses masyarakat terhadap arsip pada abad ke-17 s.d 18 yang tercipta di Nusantara (masa Vereenigde Oostindische Compagnie atau VOC) yang tersimpan di ANRI. Situs web ini merupakan hasil kerja sama ANRI dengan CORTS Foundation.
Informasi lebih lanjut hubungi:
Bag. Humas Arsip Nasional Republik Indonesia
Jl. Ampera Raya No.7 , Cilandak, Jakarta Selatan 12560
Telp. (021) 7805851 ext. 261 Fax. (021) 7810280
www.anri.go.id
September 2013: TCF news
Start of preparation of the draft of the next Memorandum of Understanding (2014- 2017) with Arsip Nasional Republik Indonesia.
Prof. Dr. Ing. W. Djojonegoro, chairman Advisory Board DASA, visited the Netherlands and TCF.
September 2013: CCC news
The foundation is taking its first steps towards co-financing and further collaboration with other partners. A draft proposal for a policy was created.