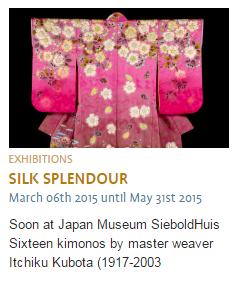 From March 6th until May 31st 2015 the Japan Museum 'SieboldHuis' will house the exposition 'Silk Splendour. Kimonos from the Kubota Collection' (Dutch: 'Zijden Pracht. Kimono's uit de Kubota Collectie'). Sixteen showpieces by Itchiku Kubota are shown, each about two meters high and one and a half meters wide, can be admired in all its detail. Fourteen of these pieces are shown outside Japan for the first time.
The Corts Foundation is sponsoring the exhibition with a donation.
At the same time the Japan Museum 'Sieboldhuis' shows textile exhibitions by 'Windkracht 10' and amateur artists of 'Stidoc, responding to the Sybold collection.

Japanmuseum SieboldHuis is located at the Rapenburg 19 in Leiden, the Netherlands, and open from tuesday to sunday from 10:00 - 17:00 hours. For more information see www.sieboldhuis.org .