The Operations of the Navy in the Dutch East Indies and the Bay of Bengal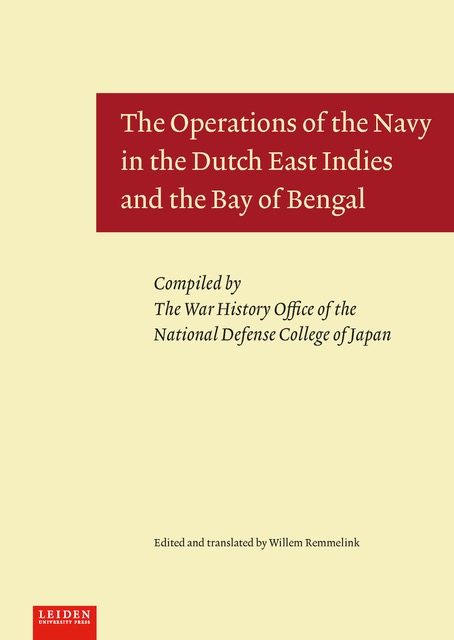 Between 1966 and 1980, the War History Office of the National Defense College of Japan published the 102-volume Senshi Sōsho (War History Series). These volumes give a detailed account of the operations of the Imperial Japanese Army and Imperial Japanese Navy during the Second World War. The Operations of the Navy in the Dutch East Indies and the Bay of Bengal, volume 26 of the series, describes the Japanese Navy's role in the campaign to gain control over the Indonesian archipelago. It includes, among others, the first, complete Japanese analysis of the Battle of the Java Sea, a much-debated battle that ended disastrously for the Allies and opened the way to Java for the Japanese.
The Corts Foundation ("TCF", www.cortsfoundation.org ) aims to preserve and open up historical sources concerning the Dutch presence in East and Southeast Asia and make them available to researchers and the general public. Its main projects concern the digital long term preservation of 1.1 million manuscripts archival concerning the Dutch East India Company (VOC) held at the National Archives of Indonesia (ANRI), and the translation into English of several volumes of the Senshi Sōsho series concerning the Japanese invasion of the former Dutch East Indies.
After publishing in 2015 to national and international acclaim The Invasion of the Dutch East Indies (Vol. 3 of the Senshi Sōsho series), the Corts Foundation will present on Monday 24 September 2018 at 15.00, The Operations of the Navy in the Dutch East Indies and the Bay of Bengal. To register for this presentation at the Groot Auditorium of Leiden University, Rapenburg 73, please reply to: This email address is being protected from spambots. You need JavaScript enabled to view it. .
During the presentation, Dr. Anita van Dissel, Associate Professor Maritime History, Leiden University, Vice Admiral (rtd) Matthieu Borsboom, Former Commander Royal Netherlands Navy, and Dr. Willem Remmelink, editor and translator of the volume, will give short presentations. The president of the Corts Foundation will present the first copies to prof. Dr. M. R. Rutgers, Dean of the Faculty of Humanities, Leiden University, and to Mr. Th. W.R. Doorman, son of Rear Admiral Karel Doorman, commander of the Allied Fleet during the Battle of the Java Sea.
The publication of this volume was made possible by the financial support of not only the Corts Foundation, but also the Isaac Alfred Ailion Foundation, the Suntory Foundation, the Gravin van Bylandt Stichting, the Netherlands Institute of Military History (NIMH), the Samenwerkende Maritieme Fondsen (i.e. Vaderlandsch Fonds ter aanmoediging van 's-Lands Zeedienst, Directie der Oostersche Handel en Reederijen, and the Vereeniging de Prins Hendrik Stichting).
The Publisher is Leiden University Press.
For now: "SAVE THE DATE".
Signed, Egbert Jacobs
President The Corts Foundation