The Corts House, where The Corts Foundation is formally established, is located in Enkhuizen, The Netherlands, at the Westerstraat 158. It is an architectural and historical monument dating back to 1617. Kees Corts' grandfather practiced as the municipal dentist there. When the parents of Kees were on leave from Indonesia in the Netherlands they always stayed in this house.
The original use of the house is unknown. In Dutch archives ("Kohier der verpondinge van de huysen en timmeringe der stede Enckhuysen") the house was first mentioned in the year 1630. The ironmonger Pieter Sweerszoon van Tol was living there and traded as so-called "ijsercramer" a business his ironware shop "In 't HEERTIJSER".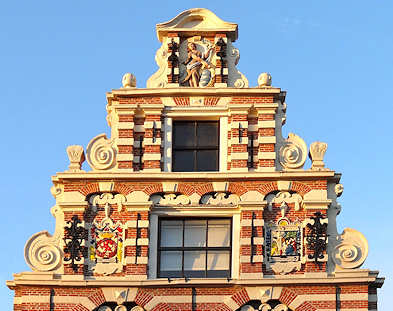 The Corts Foundation owns and maintains the Corts house. Decorative ornaments of the facade were repainted in their original colors.
The Corts House has a magnificent classical facade that shows a shield with the year 1617, and the heraldic signs of the house of Orange and of Western Friesland in the frieze.
The reliefs in the top section of the facade are the Lion in the Dutch garden with the caption Hollandia on the left, and iconography of Genesis 20 on the right with the caption "Dit is Jacobs Waterput" (English: This is Jacob's well). The Dutch garden was a popular theme in the seventeenth century and refers to the long struggle of the Dutch against the Spaniards for independence. At the very top of the facade the Enkhuizer City Virgin is depicted.
The architecture historian Gerrit Vermeer made a description of the house in 2016 with details about the history and architectural elements. This report (in Dutch) can be downloaded here: